A Message From Our Chairman
Lord Lamont, UK Trade Envoy to Iran
British Airways Suspension of Flights to Iran
'British Airways' announcement that it is suspending flights to Iran from 23 September hardly comes as a surprise. On 7 July KLM had announced its own decision to suspend flights from September, and Air France did likewise yesterday. In all cases, the national carriers have attributed the decision to commercial reasons.
While the struggling Iranian economy is likely to result in a reduction in demand at some point, it is clear that both the economic difficulties and the airlines' decisions are a direct result of unilateral US political measures - IE the re-imposition of sanctions.
The National carriers are of course not alone in taking the decision to withdraw. French oil giant Total and several auto companies have similarly withdrawn, but National Carriers are a particularly visible indication of the trend, impacting the direct flow of business travel between Iran and Europe. In this respect, the consequences of the US decision are perhaps unprecedented. The pre-JCPOA sanctions were, of course, multilateral, being applied by the UN, EU and individual European states. In those cases, national carriers had no choice but to suspend flights consistent with direction from their own governments.
Now, however, the national carriers are complying with measures imposed unilaterally by the US. This perhaps says much about the continuing importance of the US as one of the biggest markets in the world. But, if the US is able to exercise such direct influence on the commercial activities of other countries in this case and force compliance, it begs the question whether European companies will be forced to comply with other unilateral U.S. decisions as and when Washington decides.'
Lord Lamont of Lerwick - August 2018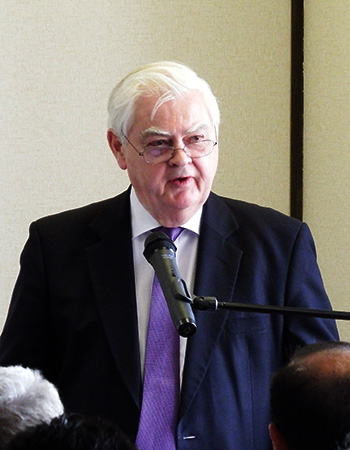 Transacting with Iran - New Initiatives
BICC understands the Government and its European partners are working on three initiatives to support transactions with Iran and for this purpose, the E3 and Iran have formed a number of working groups.
The first initiative relates to consumer goods and would seek to enhance existing commercial banking relationships between Europe and Iran to maintain payment for consumer goods including food, medical and agricultural goods. The idea is to facilitate European banks processing payments of certain chosen identified Iranian banks. The Government is working with the US to get additional assurances for banks and bring some legal certainty into the situation. This would focus on the Iranian banks most active in consumer goods, are connected to SWIFT and have active correspondent banking relationships to Europe. All this would be done in accordance with regulatory standards particularly relating to AML and CFT.
The second initiative is a Special Purpose Vehicle (SPV), essentially a netting mechanism, which will reduce the number of cross-border payments by enabling businesses to settle debts and payments from Iran between themselves. This could be of particular use to Iran in getting paid for its oil.
The third initiative is a development of the second and is a larger SPV that will still be a netting mechanism but will have a banking licence to process payments itself. The SPV would eventually become a paying agent or bank, in which EU businesses could have an account, and it would have relationships with Iranian banks. It would be open to Non-EU companies as well and would be regulated and supervised. The UK is fully involved in these discussions, will be a participant and it is assumed will continue to be so even after the UK leaves the EU.
---
Healthcare Conference 4th July 2018
Please click here for a summary
---
Trade Restrictions on Iran
BICC requires all Members, as a term of Membership, to observe applicable UN, EU and UK sanctions and recommends that they take account of US and other sanctions law where it might affect them directly or indirectly.
BICC is able to provide understanding of the sanctions and help in compliance.
For a comprehensive view on this subject, please go to our trade restrictions page.
---
Join the BICC
Priority Networking.
Business Information.
Trade Delegations.
Visa Support.
Iran and the Financial Action Task Force (FATF)
An important plenary session of the Financial Action Task Force (FATF) will take place in October during which Iran's compliance with FATF requirements will be considered. The FATF had set out 9 actions which Iran had to complete to avoid being blacklisted by FATF. These actions 'range from specific elements of enhanced due diligence and systematic reporting of transactions involving the jurisdiction, to a limitation or prohibition of financial transactions within the jurisdiction.'
There has been substantial media coverage on these requirements because failure to comply could further reinforce Iran's isolation from the international financial systems. At the time of writing (27th September 2018), a high - level Iranian delegation was in Rome to present to the FATF its progress report on these requirements.
Broadly speaking, the actions relate to the following Iranian national laws and international agreements.
Amendments to Iran's national law:
CFT (countering the financing of terrorism) Law. This completed its way through the legislative process 2-3 months ago.
AML (anti-money laundering) Law. This had previously been debated and accepted in parliament, but rejected by the Guardian Council (GC). The Majlis incorporated the guidance of the GC into revised legislation and ratified this yesterday. This now goes back to the GC for its approval.

In Iranian official circles, it is believed that given that its opinions have been incorporated into the revised legislation, the GC will approve and ratify this; this could require a further 2-3 weeks, taking it into the middle of October. The legislation will also require the assent of the Expediency Council; however, its comments will not require its being returned to the Majlis, so will not result in further delays.
Iran is required to ratify the following two international agreements:
Palermo Convention (covering transnational organised crime). As above. Ratified by the Majlis yesterday.
International Convention for the Suppression of the Financing of Terrorism. After rejection by the Majlis and a two-month pause to allow for a review to be conducted by the Majlis National Security and Foreign Policy Commission, this is now back on the floor of the Majlis for debate and will be subjected to the above process.
Some reports from within Iran have indicated that the Supreme Leader has approved these amendments. Although there are still details to finalised under points 2 and 4 above, it is clear that the Iranian side is making strenuous efforts to complete these tasks and to conform to FATF requirements within the timeline.
It is expected that the FATF will make its decision on Iran's compliance on the 19th October, the final day of the plenary session.