A Message From Our Chairman
Lord Lamont, UK Trade Envoy to Iran
British Airways Suspension of Flights to Iran
'British Airways' announcement that it is suspending flights to Iran from 23 September hardly comes as a surprise. On 7 July KLM had announced its own decision to suspend flights from September, and Air France did likewise yesterday. In all cases, the national carriers have attributed the decision to commercial reasons.
While the struggling Iranian economy is likely to result in a reduction in demand at some point, it is clear that both the economic difficulties and the airlines' decisions are a direct result of unilateral US political measures - IE the re-imposition of sanctions.
The National carriers are of course not alone in taking the decision to withdraw. French oil giant Total and several auto companies have similarly withdrawn, but National Carriers are a particularly visible indication of the trend, impacting the direct flow of business travel between Iran and Europe. In this respect, the consequences of the US decision are perhaps unprecedented. The pre-JCPOA sanctions were, of course, multilateral, being applied by the UN, EU and individual European states. In those cases, national carriers had no choice but to suspend flights consistent with direction from their own governments.
Now, however, the national carriers are complying with measures imposed unilaterally by the US. This perhaps says much about the continuing importance of the US as one of the biggest markets in the world. But, if the US is able to exercise such direct influence on the commercial activities of other countries in this case and force compliance, it begs the question whether European companies will be forced to comply with other unilateral U.S. decisions as and when Washington decides.'
Re-Imposition of US Sanctions : Supply of, Pharma, Healthcare, foodstuffs and other Humanitarian items to Iran
On 6 August the Office For Foreign Asset Control (OFAC) of the US Treasury issued updated 'frequently asked questions' on the re-imposition of sanctions. This document states that the sale of medicine and medical devices, as well as certain other humanitarian items, remain permissible, although OFAC points out that even in these sectors it remains impermissible to trade with sanctioned entities and individuals. (see JCPOA Wind Down Document, Section 2.7)
The Department for International Trade has also confirmed to Lord Lamont that the US will continue to exercise broad exemptions for healthcare and pharmaceutical supplies to Iran'
Lord Lamont of Lerwick - August 2018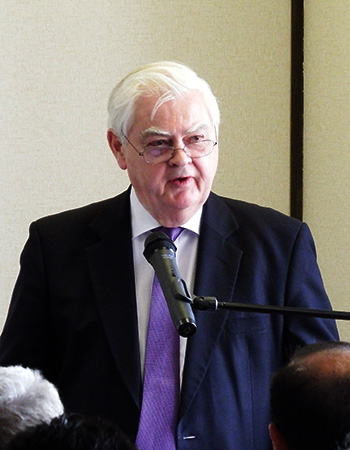 Healthcare Conference 4th July 2018
BICC in conjunction with the Government of Iran and the UK's Department for International Trade held a successful conference on the Healthcare sector in Iran. The conference was well attended by both British and Iranian speakers and delegates from both the Public and Private sectors. UK Health Minister Stephen Brine delivered the Keynote opening address. For a summary of the event , please click here for more
---
Financial Action Task Force (FATF)
We welcome the recognition of the Financial Action Task Force (FATF) that Iran has a high level of political commitment to addressing AML/CFT issues, and in seeking technical assistance in the implementation of the Action Plan and the consequent FATF decision to suspend counter measures. Click here to see FATF's statement
---
Trade Restrictions on Iran
BICC requires all Members, as a term of Membership, to observe applicable UN, EU and UK sanctions and recommends that they take account of US and other sanctions law where it might affect them directly or indirectly.
BICC is able to provide understanding of the sanctions and help in compliance.
For a comprehensive view on this subject, please go to our trade restrictions page.
---
Join the BICC
Priority Networking.
Business Information.
Trade Delegations.
Visa Support.